Reforma de Casa Solariega
Valdeavellano deTera Soria 2012
Architect
Ignacio Romera Gonzalo
Photographer
Juan Carlos Quindós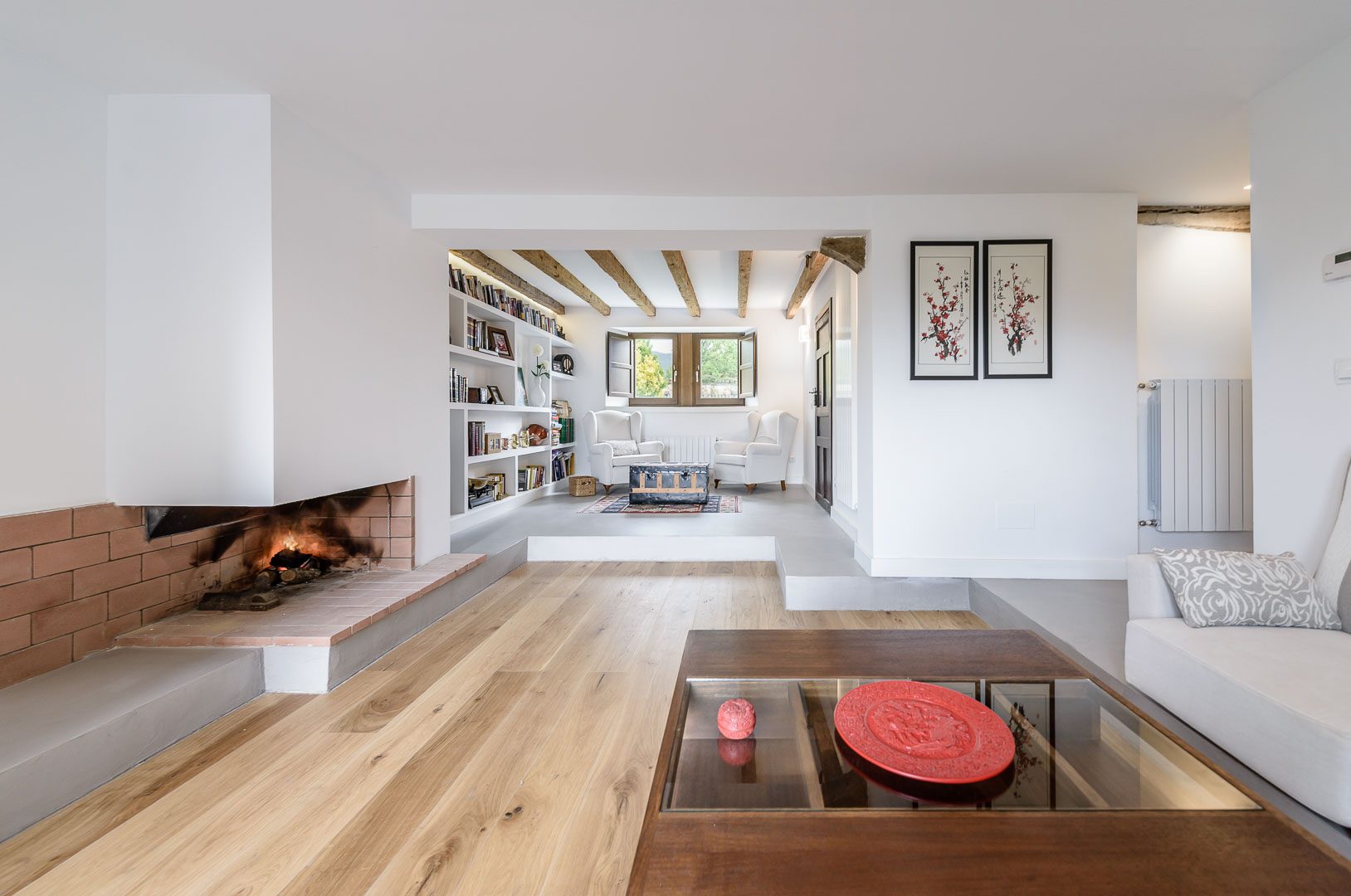 The house was built in 1912, with a stable, a barn, a horse carriage garage and a separate building for storage and a wood-fired oven, it has also a garden. It has been built according to the peculiar typology of this area: stonework masonry covered with white mortar and corners, doors and balconies framed with limestone. Three sloped roof with side eaves.
The house was in good conditions, although due to its age, lack of isolation and installations obsolescence it was not comfortable, mainly in winter.
In the 1980s the house was partially remodeled to upgrade electricity and sewage, but all these installations, were obsolete and it has not got any thermal isolation.
The owner wanted to have an habitable home with the comfort levels according to current standards in order to use it at weekends and holidays, while preserving the original character of the house. The external appearance should be kept, the budget was limited and, as the house had a great built space, the owner finally decided to act only on the ground floor.
Restyling criterion:
Connecting inner spaces and garden
Some openings were practiced in the limestone load bearing walls and the staircase was changed connecting inner spaces and improving usefulness and spaciousness. The whole living spaces were placed in the ground floor using the old stable to place some new bedrooms. The upper floors remained unchanged to occasional hosting for guests in summer, as playing rooms for children or as storehouse.
The windows in the facade were made bigger as balcony doors, in order to get more sunlight.
More sunlight inside
The useless barn and the old garage were wrecked down, getting a longer front wall building, more sunlight and more useful space for the garden. A skylight is built in the stairs which gives light to the center of the house.
Thermal isolation in the remodeled area
As only the ground floor has been transformed, it was the only area which has been air-conditioned. Isolating the inside walls is not necessary to heat the whole building and the thick stone walls. New wooden windows, similar to the old ones, and a traditional big gate are placed.
New installations
A biomass boiler is installed providing sanitary hot water and heating to the house. All the electricity, plumbing and drainage installations are new. The aim is to keep the character of the building outside as well as inside.
This restyling does not change the building appearance. Old beams and peculiar elements have been repaired as well as part of the floor made of big pairing stones. The house keeps the essence of the old home while, being comfortable and functional. The mixture of original and modern furniture emphasizes the home character.